Tips for a Stress Free Day

All eyes are on the bride on her wedding day.  There will be a hundred cameras flashing and a million pictures taken, you want to look vibrant and beautiful in every one.  Here are a few tips to put into play before the big day so you can relax while walking up the aisle knowing you are radiant.
*If you want to glow, you need to feel it.  Begin a stress relief program six months prior to the date.  Take time out to do something non-wedding related.  Do Yoga, read, exercise; anything you enjoy to put your mind at ease and keep stress to a minimum.
*I cannot stress the importance of taking care of your skin.  Start a simple skin care routine and stick with it.  If your budget allows it, get monthly facials to rejuvenate and deep clean your skin.  Ideally, it's best to get facials done beginning six months prior to your wedding to a week beforehand.  DO NOT get a facial less than a week before your wedding.  Facials are meant to deep clean your pores and bring all dirt, oil, and toxins to the surface for easy removal.  Because of that, some people experience flare ups, bumps, or redness right after the facial. Allow at least a week for your skin to recover.  Same goes with waxing.  
*Make sure you book your hairstylist and makeup artist well in advance and have trials with both.  Take pics of hair and makeup you like to your appointments, as well as your dress, and wedding colors so the stylist or artist can have a better idea of how you want to look that day.  That way, you can relax on your wedding day knowing exactly what you'll look like.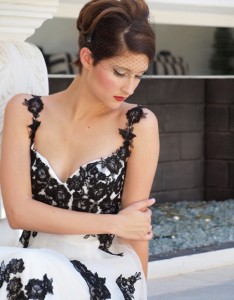 *On that note, don't make any drastic changes to yourself immediately preceding your wedding.  Make sure you have enough time to undo whatever you did if you so choose.  Don't cut, color, or style your hair differently right before your wedding because you will hate it.  Don't tan right before the wedding.  Not only does this throw off the foundation color that was used for your makeup trial, nothing looks worse than an orange bride in a white dress.  Don't change products you use for skin care, such as, cleansers, moisturizers, detergents, lotions…what if you have an unknown allergy to one of these new products and end up with a horrible rash?  It's best to avoid change during this time period unless recommended by a doctor.
*Drink lots of water! Like tons!  Being hydrated will help you look better, feel better, and give you more energy.  It also keeps your skin clear and radiant.  Try to limit your alcohol and sodium intake right before the wedding too.  Alcohol will dehydrate you and sodium will make you bloated.  Not good.
*Make sure you wear comfortable shoes.  Flats the color of your bridesmaids dresses or flowers are super cute and chic in my opinion.
*Prepare an emergency beauty kit for touch ups and anything that might go wrong about a week before the wedding.  Be sure to include: Bottled water, aspirin, oil blotting papers, lipstick that matches the color you're wearing, band-aids, breath mints, chalk for covering smudges on your dress, clear nail polish or hairspray run stocking runs, cotton swabs, eye drops, tissues, hairpins, hem tape, nail file, mirrored compact, safety pins, straws, hand towelettes, and quick drying glue.  Entrust this kit to one of your bridemaids the day of to keep on her at all times.  Be prepared for any surprises so it won't ruin your special day.   
I also suggest getting a relaxing and calming massage the morning of your ceremony.  It's a great way to prepare for the day ahead.